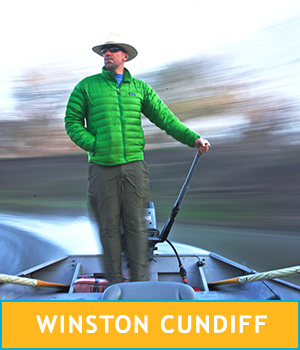 Winston Cundiff
Bass Guru
Favorite Fish: Bass
Home Water:  Central Texas
Having grown up nowhere in particular, Baton Rouge and the San Francisco Bay area were the two mainstays of my childhood with lots of places in between. The most consistent things in my youth were poor school attendance and fishing poles. I grew up fishing the streams and rivers of Northern California as well as the waters of Sportsman's Paradise with spinning gear.
I first picked up a fly rod while serving in the Navy when stationed in Jacksonville, Florida. There we "fished' the brackish waters of the St. John's River. After the Navy, I spent a few years in Lafayette, Louisiana working offshore as a commercial diver where my quest for big saltwater fish continued. Only knowing saltwater fly fishing, I felt a bit out of place in Austin until I met a small group of guys that fished the Hill Country Rivers in a manner that was familiar to me… Targeting big fish with big rods. I had been reignited after my first experience on the Lower Colorado; I clawed my way into that group of guys to learn as much as possible from them and made some great friends along the way.
I have been chasing fish for 30 years and I love to be on the water. As well as being a guide, I have spent lots of time as the "client". I know that professionalism and excellent customer service are keys to providing the client with more than just a great day of fishing. I strive to offer an educational and great experience when on the water. I am a member of All Water Guides, we are a full service guiding outfit here in Central Texas that offers multiple fishing destinations to fantastic water.
I am a husband, father and when not on the water, a paramedic working in Central Texas EMS.