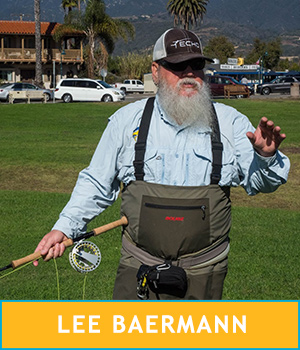 Lee Baermann
Surf Guru
Favorite Fish:  SoCal surf species:  Barred Surf Perch, Corbina, Halibut, Leopard Shark, Striped Bass and all of the other surf species
Home Water:  Southern California Beaches
Lee's love of fishing began at an early age when his maternal grandfather showed him how to catch Musky in the lakes of Northern Wisconsin.  After his family moved from Milwaukee to Oxnard, California in the early 60's, that love continued, not only at the local lakes in Ventura and Santa Barbara counties, but on the beach, where he grew up.
As a child, Lee began fishing from the docks with a 50 cent drop line, graduating from there to spinning gear, then to a long surf rod, and finally to a fly rod.
Lee fishes the So. California surf at least 300 days per year; Whether guiding for his business, 'FLY FISH THE SURF' or just for fun, Lee has caught Barred Surf Perch, Corbina, Halibut, Leopard Shark, Striped Bass and all of the other surf species.  When Lee is not fishing in salt water, you can find him in the local canals guiding for Carp.
'Fly Fish the Surf' is also the title of Lee's very successful book on how to fly fish the Southern California beaches. It covers how to read structure, what flies to use and how to fish specific surf species as well as what gear you need to be effective.
Lee also spends at least 2 or more weeks per year in Baja California fly fishing in the waters of the Sea of Cortez where his BullCandy fly has been lauded by Pam Bolles of THE BAJA BIG FISH COMPANY.  To quote Pam, "I have NEVER seen a fly absolutely dominate sales and effectiveness.  It was hard keeping one for myself as guys were fighting over them."
On most Fridays, Lee can be found at Eric's tackle in Ventura, California tying flies and spreading the word on the ease of fly fishing from the beach. Most conventional fisherman express surprise at the fact that there is a sport like fly fishing in the surf. Lee is also on the pro staff with Rajeff Sports and Waterworks-Lamson Fly Reels, Solarez UV Epoxy, Sockwa water shoes and Dr Slick fly tying equipment.
Lee is a full time surf fly fishing guide, living in Oxnard, California with his wife, Karen and their Akita dogs, Saki and Yoshi.