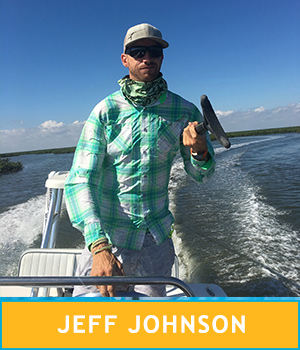 Jeff Johnson
Favorite Fish: Northern Pike  
Home Water: Rockport, TX, Missouri River, MT
Jeff grew up in Washington, on the banks of a blue ribbon trout stream. His interest in fishing quickly became a passion. As he traveled the world for his profession, he always had a fly rod along. Continuously looking for an adventure and new water, his travels allowed Jeff the chance to fish various waters across the globe.
Life happened, and Jeff finally had the chance to turn his passion into a profession; he has now been guiding for many years in various places across the US. Currently, he has the best of all worlds for someone with his drive and passion to be on the water. Jeff spends his summer months in Montana, with most of his days on the Missouri River, which is by far, considered one of the best trout fisheries in the world. Despite the amazing opportunities of the Missouri, Jeff doesn't just stick to that River when in Montana… He regularly travels North to chase Northern Pike, or seek other adventures across the state. During the Fall and Winter months, Jeff heads to the salt to chase redfish, drum, trout, and maybe even a tarpon or two. He's based out of Rockport, Texas, where he poles the crystal clear waters of the Texas flats.
The variety and change in scenery that his nomadic lifestyle affords, allows Jeff the opportunity to use a variety of gear, fish different water, and keep him excited and engaged, even as he spends over 300 days each year on the water with clients. Jeff lives and breathes fly fishing. When he's not with clients, he spends his few days off exploring and fishing, tying a variety of specialty flies, or seeking out the new "perfect" spot.