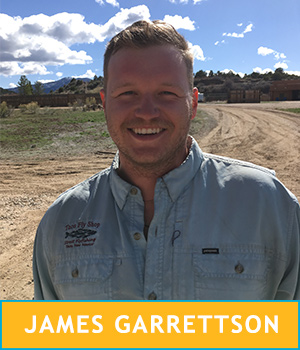 James Garrettson
NM Trout Guru
Home Water:  San Juan River, Rio Grande River, New Mexico
After receiving a copy of the Curtis Creek Manifesto at age 11, James life became completely consumed by fly fishing. Armed with "The Essence of Fly Casting" VHS and lots of free time, James would spend hours casting in his driveway and terrorizing the bass and panfish behind his house.
He soon found love for the brook trout in Virginia's Blue Ridge Mountains and soon after getting a driver's license, he could be found fishing for anything that could swim from New York to Florida. After bouncing around Utah, Costa Rica, and Washington State, James has found a home in Taos, New Mexico. From the small trout-filled creeks, the technical San Juan, and The Rio Grande, New Mexico offers the angler excellent trout fishing year round.
James works and guides for Taos Fly Shop, located in Taos New Mexico. When not guiding or working sho, James spends his time with his beautiful wife and daughter, or fishing or both!