Four piece travel design
Graphite:  Lightweight, high-modulus
Action:  Med Fast to Fast
Tube:  Fabric-covered square rod case & sock
Guides: Heavy duty chrome snake guides
Grips:  Features 3 grip styles
Reel Seat:  Anodized black aluminum reel seat
Warranty:  Echo Lifetime Warranty
Thousand-bucks NOTHIN'! The ECHO3 Switch and Spey rods are constructed from premium high-modulus graphite and offer features typically associated with rods that cost twice as much. Huck-ready fast actions and uncanny lifting power are complemented by the ECHO3's affinity for delivering pinpoint casts. Intruders or bombers, bobbers or clousers – the ECHO3 Switch and Spey have you covered.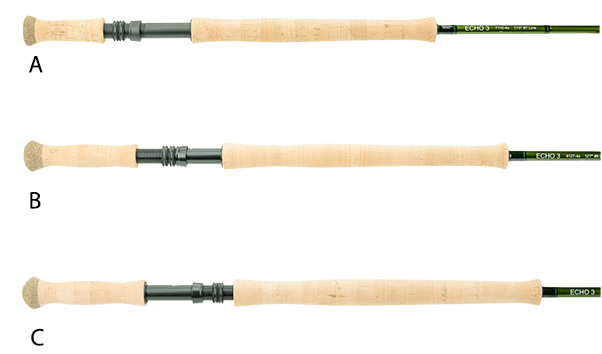 | MODEL | LENGTH | LINE | PCS | GRIP | WEIGHT | ACTION | PRICE |
| --- | --- | --- | --- | --- | --- | --- | --- |
| E3-6110 | 11'0" | 6 | 4 | A | 5.7oz | Fast | $524.99 |
| E3-7110 | 11'0" | 7 | 4 | A | 6.0oz | Fast | $524.99 |
| E3-8110 | 11'0" | 8 | 4 | A | 6.3oz | Fast | $524.99 |
| E3-6127 | 12'7" | 6 | 4 | B | 6.8oz | Med Fast+ | $549.99 |
| E3-7130 | 13'0" | 7 | 4 | C | 7.0oz | Med Fast+ | $549.99 |
| E3-8134 | 13'4" | 8 | 4 | C | 7.2oz | Med Fast+ | $549.99 |
Action vs Power Comparison
The Action vs. Power matrix is used for comparison between ECHO rod models. Utilizing this chart, you'll be able to choose an ECHO rod that best fits you and your personal casting stroke. The vertical axis indicates the rod's power, while the horizontal axis indicates the rod's action. In simple terms, two-hand rod action is derived from the top half of the rod, while power is derived from the bottom half.
Action:
Fast action rods feature softer tips than medium action rods and provide a 'stiffer' feel. Fast action rods excel in the hands of anglers with more aggressive casting strokes and greater stroke control. Medium action rods are ideal for anglers with more fluid casting strokes and have a larger 'sweet spot' for a wider range of casting strokes. Consistently throwing a tailing loop? Your rod's action may not be a good fit to you and your casting stroke.
Power:
A rod's power is its resistance to flexing under load. Powerful rods are 'beefier' through the bottom half, generate higher line speeds, and are more adept at keeping big fish pinned. Delicate rods are more presentation-oriented, protect light tippet, and are a better choice for picky fish.
Rajeff Sports would like your ECHO experience to be a good one and we ask that you take care of your equipment with the following regular maintenance:
Wash all components with warm freshwater after each days use in saltwater. Pay extra attention to the space where the guides meet the blank and the metal parts of the reel seat. Try to keep sand and dirt out of the ferrules. Occasionally use a few drops of any reel oil or grease on the reel seat threads to keep it operating smoothly. Paraffin wax can also be used on the ferrules if needed to ensure a proper fit.
Do not use tape on your ferrules. If you do we'll come steal all your bacon and PBR.