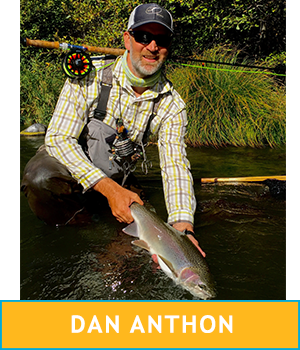 Dan Anthon
Central Oregon Guru
Favorite Fish:  Native Rainbow Trout
Home Water:  Deschutes River, OR
Dan Anthon has been guiding fly fishers and whitewater enthusiasts since 1997. Raised upon the shores of North Lake Tahoe, he has been pursuing fish with a fly rod since the age of eight. Dan studied Fisheries Biology & Entomology at Humboldt State University, and also taught the Introductory Fly Fishing course there.
Dan helped to develop the fly fishing program at the Marble Mountain Ranch on the Klamath and Trinity Rivers, and also guided white water in Southern California on the Kern River. He has also worked as Fisheries Biologist in Ventura County, CA.  He relocated to Central Oregon in 2007 with his family to join the team at The Fly Fishers Place in Sisters as their Head Guide.  In 2016 Dan joined the team at the Confluence Fly Shop and Deep Canyon Outfitters in Bend, OR. Dan also provides casting lessons and conducts fly fishing schools, and enjoys sharing his knowledge and passion by offering fly fishing related speaking engagements.
Dan is very proud to work with Patagonia as a product tester, and to be a member of the Pro Staff for Rajeff Sports, Echo and Airflo products.