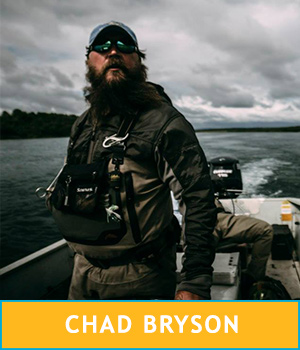 Capt. Chad Bryson
Muskie Guru
Favorite Fish:  Steelhead, King Salmon, Muskie
Home Water:  Bristol Bay, AK – Southern Applacia
Chad Bryson is a certified fish bum, hack writer and full on adrenalin fishing junkie since birth. His mom even has a picture of him literally wearing nothing but a diaper and rubber boots fishing in a southern Appalachian trout stream.
In the summer months, you will find him guiding in Bristol Bay Alaska at Anglers Alibi. Here he specializes in swinging flies with Spey rods for Kings on the Alagnak River. Late season, he travels down the Alaska Peninsula to swing for the last great run of Bering Sea Steelhead. Alaska is and always has been his sickness.
During winter, you can find him hauling muskrat sized flies for Musky in Southern Appalachia or simply maintaining his position in the "chair circle" at The Fish Hawk in Atlanta, GA.
Chad is also a partner at In The Spread, making and producing instructional sport fishing videos for anglers of every genre. Bottom line, he's a busy guy that guides and fishes a lot, all over the place.