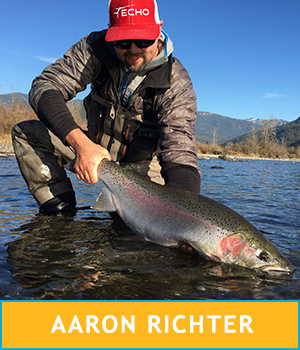 Aaron Richter
Alaska Spey Guru
Favorite Fish:  AK Rainbows
Home Water:  PNW & AK Rivers
Growing up along the banks of a cutthroat stream in North Idaho gave me a love of fishing at an early age. I started fly fishing at age 12, and now 25 years later it has worked its way into every corner of my life.
A trip to Alaska in 2000 left a lasting impression and eventually led to my return as a guide in 2009 at Crystal Creek Lodge in King Salmon.I have been guiding in Bristol Bay since. Alaska has given me the ability and opportunity to share my love of the natural world.I enjoy spending time in the great outdoors and helping people hone their skills or catch a fish of a lifetime.
When I am not in Alaska, fall and winter are spent either chasing trout and steelhead across the Pacific Northwest with my wife Michelle and son Kamden, or getting creative on the vice tying flies.