I don't spend much time alone these days. With two young kids, more jobs than I care to list and a full slate of other responsibilities, time to myself is nearly non-existent. It hasn't always been so busy, though. I grew up as an only child on 20 acres along a river, and spent most of my time fishing or playing music.  Being a socialite was not always the easy for me…. or should I say, was not my preferred way to spend my time.
I started working at a fly shop when I was in high school, and quickly realized that the real money was in guiding – making $5.50 an hour was not cutting it. I realized that if I wanted to guide, I needed to fish A LOT more. I needed to log hours on the water and the boat. Learning the craft before my skill and experience justified those big dollars those guides were making. I spent a lot of time alone on the river, to the detriment of my grades and all elements of my social life in high school. This is in addition to the socially devastating facts that I had a bug collection, had a passion for a sport that many teenagers associated with retired old dudes, as well as a taste for obscure indie rock bands that played delay pedals and feedback like Bob Dylan plays chords.
There is a time in nearly every guide's early career, or any angler come to think of it, where they just buckle down and fish on their own. Logging hours on the water perfecting their craft. The commitment is different for everyone, but I just started fishing every day. I started to drift away from my buddy who started fly fishing with me, as he just didn't want to go as much as I did. He wasn't ready to dump all the other responsibilities in his life to make time to fish EVERYDAY. Apparently getting into a 4-year college, playing varsity sports and maintaining a girlfriend for longer than the rivers were blown out were more important. I don't hold it against him though, we're still friends. Sorta.
Most of my fishing time now is spent with another angler. Someone I told I would take out, working with younger guides – showing them water and mentoring them or just taking my kids fishing. Telling two boys that you are going fishing and they can't go is something I struggle doing. In reality, I could not think of a better use of my time on the water then spending it with my boys.
Every once in a while, I do get to go fishing on my own. I have spent the last four months guiding nearly six days a week for stripers on the Lower Sacramento River and my spare time is spent with my boys. Yesterday was different – I hitched up the boat and headed to the put-in alone. I had tossed around the idea of asking a young guide to go with me or taking my boys after school, but decided to head out on my own.
Honestly, I had forgotten what it was like to fish by myself. Having the ability to be totally silent, focused on fishing not have to worry about anyone busting my chops for missing a grab or dropping a fish…which I did plenty of. Most times I'm fishing with friends the boat is filled with constant banter and shit talking reminiscent of a high school locker room. The inner dialogue that trades place with the sounds of the river across my cortex is drowned out with gossip, one-liners and the meaningless dribble that take place while two dudes chuck striper flies across the river. I realized I haven't been paying much attention to fishing lately, as guiding is not fishing and I can only observe so much when the rod is not in my hand.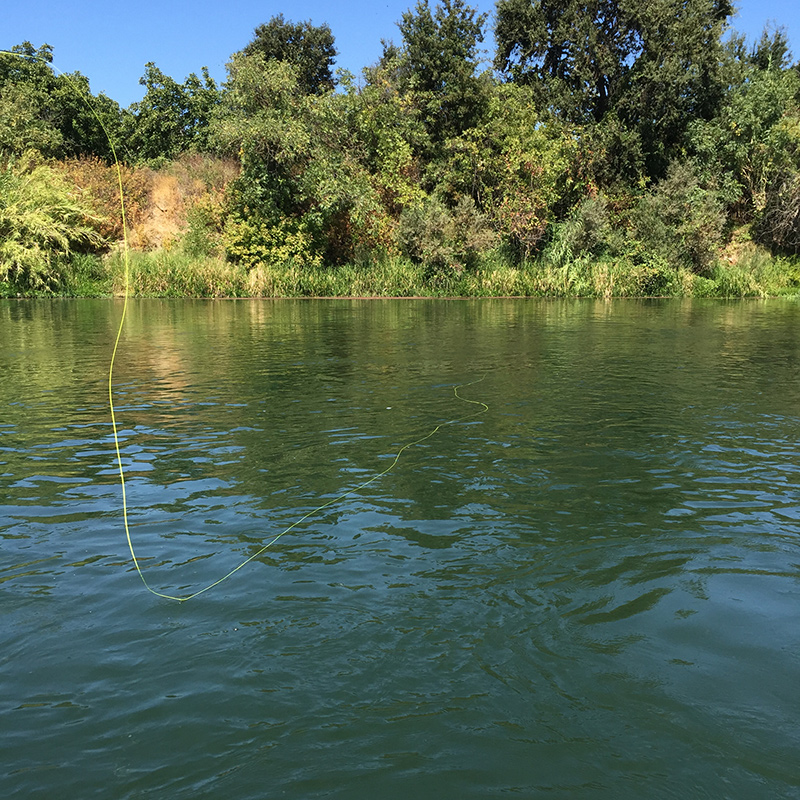 There is no substitute for fishing alone; clearing one's mind of the day-to-day bullshit that we deal with and redirecting on your energy on fishing . This is the crux of our sport: it's often best experienced alone. I believe that the hard-earned success we strive for as anglers – whatever you determine as success – resonates so much more when the challenges are worked out in your own mind and solved with your own skill, not shown to us by someone else. Yes, I know that shoots the whole "I make my living as a guide" thing in the foot, but that's another story. Furthermore, I think to truly let the environment clear your mind, your ears can't be subject to your buddy's verbal abuse about raising the rod on a big grab or babying a fish that ends up throwing the hook.
So much of our lives are spent multi-tasking, trying to kill as many birds as we can with one stone. I encourage everyone to spend some time fishing alone. Go fishing alone with no objectives other than challenging yourself and see what happens when you get out there.